Joined

May 31, 2013
Messages

3,340
Location
Dear friends,
As you know, one of our
steamed
esteemed members has been suffering for many thousands of miles (approaching 6,000 now?) with a weird liking for delta trikes of the genus "Pythonidae ".
We have tried counselling, group-therapy and "interventions", we even hired an expert in de-programming, but all to no avail. He won't budge, the obsession is too strong.
Given that we are not going to change him any time soon (the old fellow is far too set in his ways now) a concerted effort has been made to help him cope with the trials and tribulations of this affliction.
There are lots of ways to joint a trike of the genus "Pythonidae " and some are better than others (allegedly) and some are less robust and more prone to seizures and failures.
These range from:
Headset bearings.
Rod-end (Heim Joint/Rose-Joint) bearings.
Angular Contact bearings.
Tapered Roller Bearings.
Each of these approaches has been done and each has its relative merits in terms of:
How easy it is to deploy.
How much it costs to implement.
How robust it is in service.
How much maintenance it requires to keep performing optimally.
It will come as no surprise to anyone that the mid-point solution in terms of robustness, ease of deployment and moderate cost is the Rod-end/rose-Joint/Heim-Joint (call it what you will) solution.
However it is not without its drawbacks too.
It can have a short life before its friction and resistance to angular change begins to increase.
It can be difficult to align properly.
I can be difficult if not impossible to lubricate.
All that being said, our friend has managed over 6,000 miles on the snake-bike quite happily (albeit with regular rod-end changes).
This got me wondering how difficult/costly would it really be to implement the "Rolls-Royce"/Other-end-of-the-scale solution? In my eyes this would be the "Tapered Roller Bearing".
Now I am no "Sandman" and I do not have that background in engineering practice nor do I have access to a whole host of quality machinery; but I do like to tinker with things and I love a challenge. I also have a Delta trike that has all the elements of a MBB style bike that I have found difficult to get along with and a conversion to a mid-jointed trike of the Pythonidae family is an interesting proposition.
I did some web-searches and found some modestly priced Tapered Roller Bearings that were rated for 9,500 RPM and >20kN loads (4,000) pound loads. Now the pivot we want is not spinning through 360 degrees and the loads are certainly less than 4,000 pounds, so I think they will do an admirable job.
So I set about putting together the elements that might provide the "PPP" (
P
erfect
P
ython
P
ivot). I bought the following items to make the pivot itself from:
A pair of budget Tapered roller bearings of modest size (40 x 17 x 13m) @ £4.08 each.
A 300mm section of 45mm seamless cold drawn tube with a wall thickness of 2.5mm to provide the outer housing for the 40mm bearing races @ £10.67
A 300mm section of 20mm seamless cold drawn mild steel tube with a wall thickness of 4mm to provide the housing for the bearing inner races and the 12mm axle-bolt @ £8.99.
0.5mm Shims for use in adjusting the end-float of the PPP assembly. (qty 50 for £15.98).
Other tubing pieces suitable for use as inserts inside the outer tube to keep the outer bearing races in position. I had some suitable tubing that was slightly too big so I slit it and took a small slice out. This gets puddle-welded inside the main outer PPP tube.
Design of the PPP.
Ok, so I have never done this type of thing before so I may have made some errors but I tried to keep the thing as simple as possible (though you may indeed think otherwise).
The assembly consists of the bearings and two main sleeves which are used to position the bearing inner and outer pairs in the correct relationships and revolve around a 12mm central axle/bolt
The bit I could not "fudge" my way around or "hack" was the central sleeve to support the pair of "inner races" of the bearings.
So, I asked around and got a chap to turn some for me from my tubing, according to a drawing I provided (see 3D representation below).
Sandman (John) was always badgering me to learn how to use Solidworks CAD so I have (a tiny bit).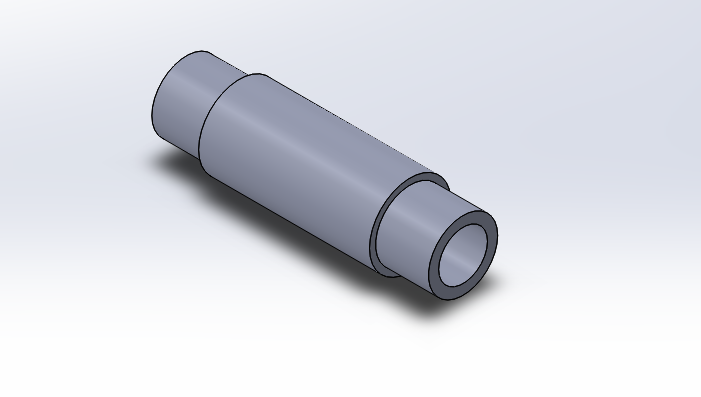 The chap had an hourly-rate and so I got my tube "turned" [pun] into 4 parts in that 1-hours cost. So I can create 4 PPP's should I need to. Cost £50. So £12.50 each.
It has made me think longingly about buying a small hobby-lathe though.
These are really dangerous thoughts and I must resist at all cost$$.
Putting it all together.
The hip bone's connected to the leg-bone……
In the diagram below nothing is to scale but the main elements of the assembly are shown and their relationships to each other. The PPP is bolted through two end cheek-plates and is free to rotate around the axis of an M12 pivot bolt that runs through its long-axis. The pivot bolt and washers hold the two inner races of the Tapered Roller Bearings (TRB's) firmly into the ends of the PPP outer tube and against the stop-shoulders of the inner PPP sleeve tube and places the rollers into contact with the TRB outer races which are inserted into the PPP outer tube and held in place by a welded in sleeve that prevents its movement within the PPP outer tube.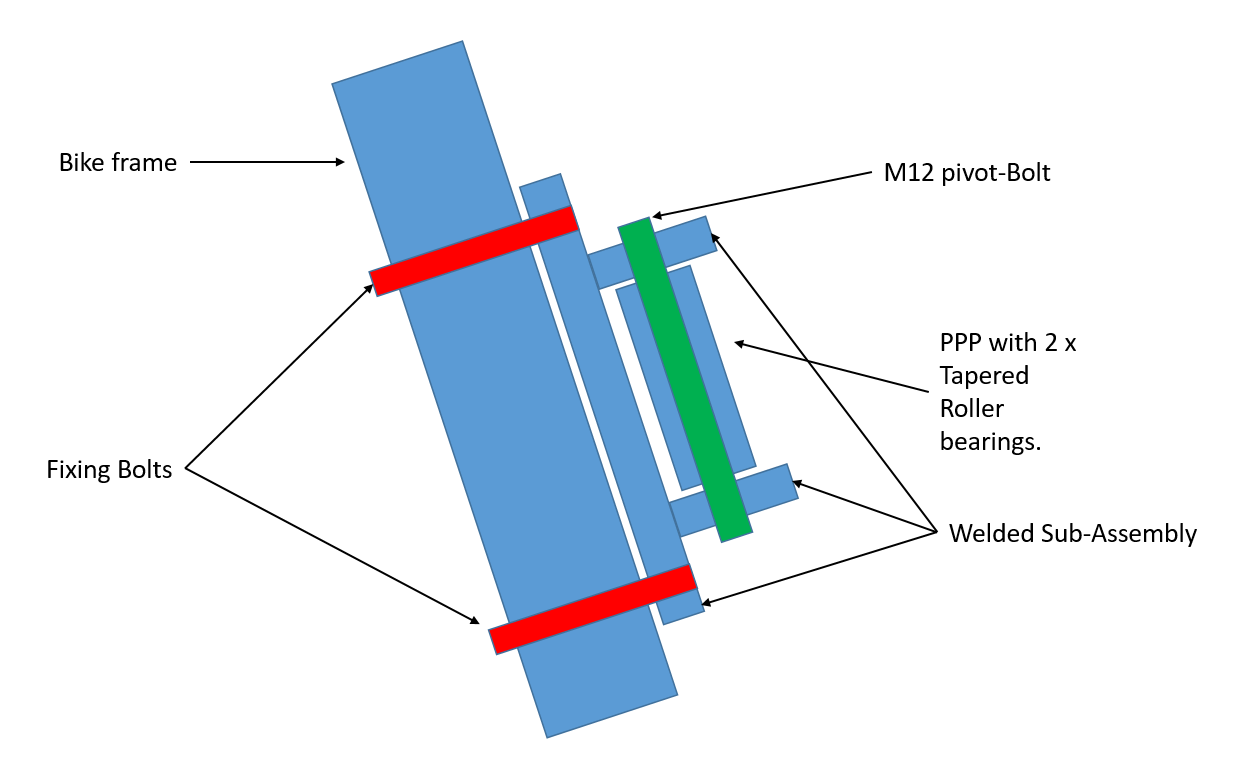 The diagram below shows an exploded simplistic view of the PPP alone.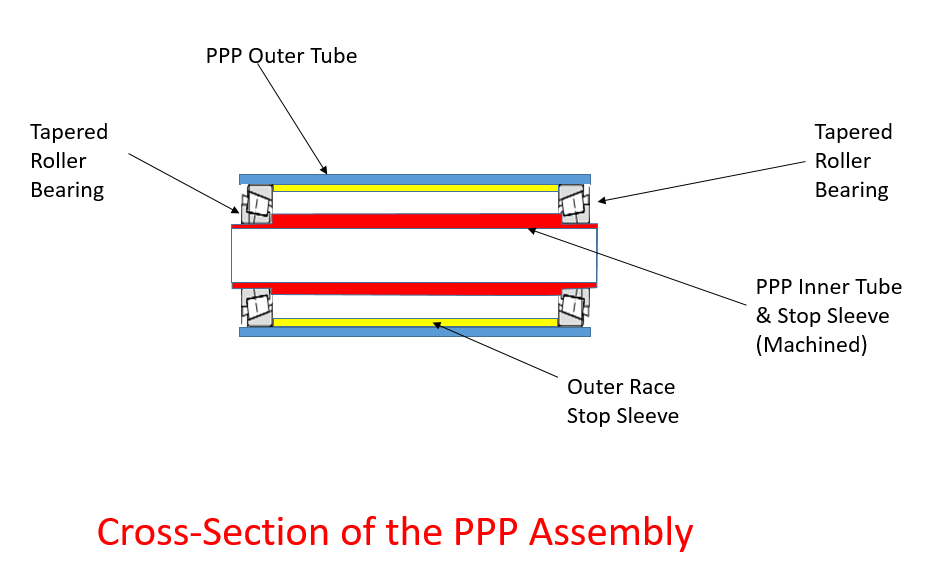 The following pictures show the actual parts of the PPP as they really are and how they fit together to form the pivot.
The Inner Sleeve.
The inner sleeve is a machined element made from cold drawn precision tube 20mm in diameter with a 4mm wall thickness. To keep the "PPP" at a modest and not ungainly size an overall length of around 68mm was desired. The two ends of the inner sleeve were turned down to 17mm OD for a distance of around 13.5mm. These reduced ends are to be inserted into the "inner-races" of the Tapered Roller Bearings and sit on the shoulder of the turning.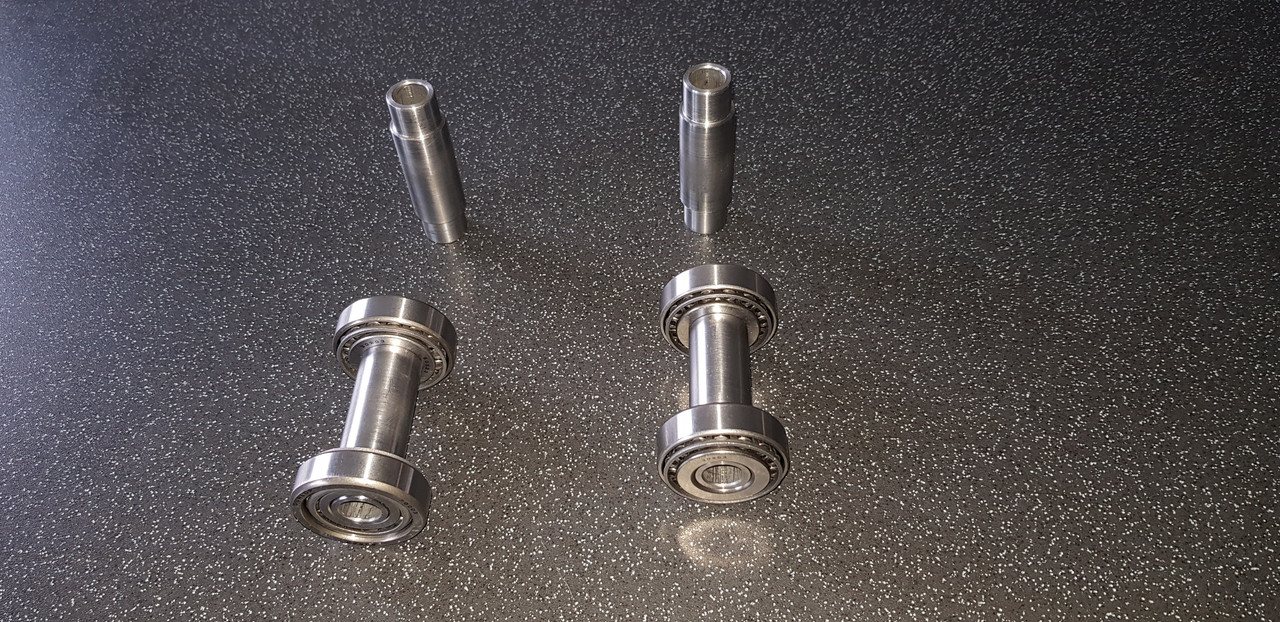 The outer races of the Tapered Roller Bearings are pre-machined "cups" that must be held in the correct position in relation to the inner race with the rollers. Effectively, the base of the metal cup should be 13.25mm from the front (outer) face of the inner race. If you can get your head around this in one go, you are a far better man than I am. It is dimension "T" in the diagram below.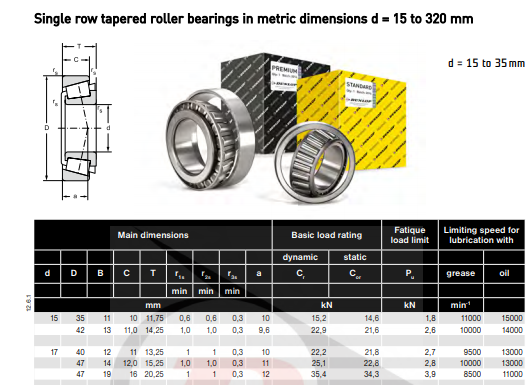 This means that as the only
fixed item
in our catalogue of parts is the central machine sleeve then we must place the inner bearing races on the inner sleeve and measure the distance across the outer ends of the races in this position (see below).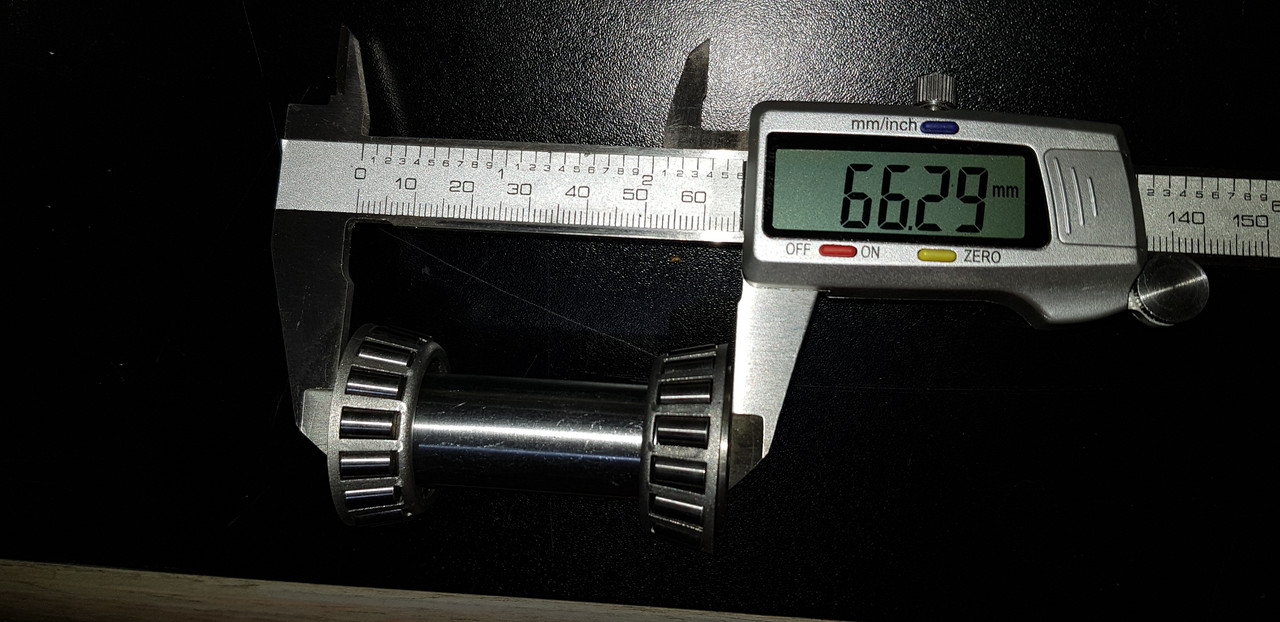 The machined cups that form the outer races and that are held in the outer tube must therefore have their inner edges 66.29 (the distance between the shoulders of our inner tube) - 26.5mm = 39.79mm apart. This will be the desired length of the outer tubes bearing stop sleeve.
In my first attempt to make a "PPP"I tried to accomplish this separation of the outer race cups in the outer tube with 2 separate stop sleeves. While this might just possibly be easier to implement it has some drawbacks.
It places the required puddle-welds to hold the stop sleeves in place too close to the ends of the main outer tube and the outer bearing cups and leads to distortion of the tube and the cups are then more difficult to remove & insert.
You now have a minimum of 4 puddle welds whereas with a single tube you only need 2, meaning more heat, more distortion.
So, I junked those parts (outer PPP tube and the two welded-in stop sleeves) and started afresh.
I cut two new tube sections for the outer PPP tube and its inner sleeve.
I don't have precision equipment, just a chop-grinder) so I cut these tubes over-size and filed them back to exact size and squared the ends as I went.
The picture below is of the outer race stop sleeve. It is in fact a 43mm tube section and is too big to fit inside the 40mm ID of the PPP outer tube. So a slice is cut out and it is re-rounded with a vise and held closed with a jubilee-clip as it is inserted into the PPP outer tube.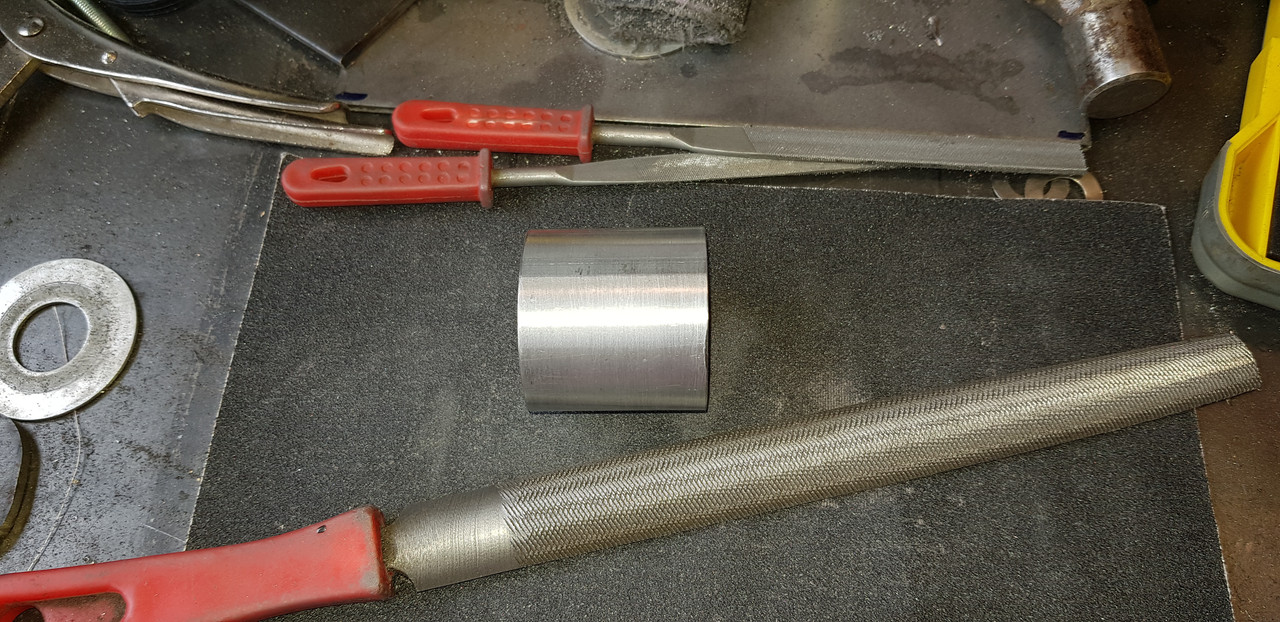 Here are all the parts that will be placed inside the Outer PPP tube, all stacked together.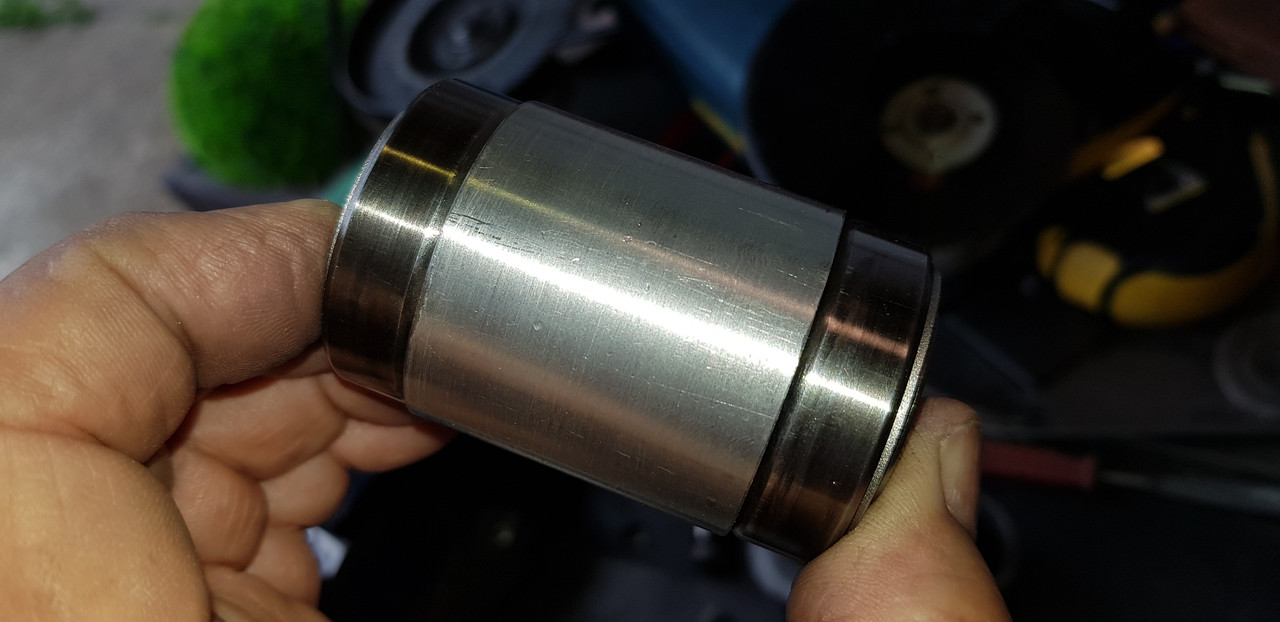 Below is the stack of internal components, and below it the outer PPP tube into which they will all be placed.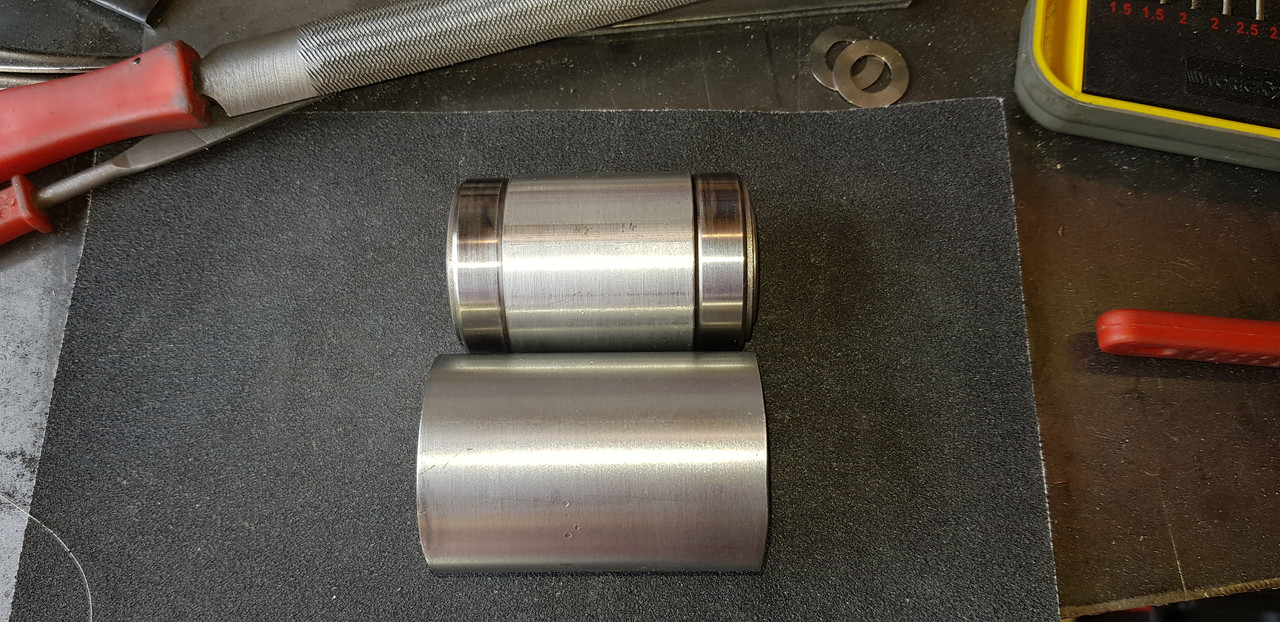 Then it was time for a dry-run with it all together and a 12mm bolt through it. Would it spin freely?
Yes, it was all good. So the PPP "inner" tube and the Tapered roller bearing inner races were removed and the PPP outer tube drilled through to puddle-weld the outer race stop-sleeve in place.
After this would it still turn ok?
It was all re-assembled and bolted up and yes, it's just fine & dandy.
So the quest for the holy-grail "Perfect Python Pivot" is over.
A kit of PPP parts will accompany me to the BHPC rally on the August bank holiday where they shall be handed over to our dear friend to aid him in his affliction ;-).
Last edited: