Joined

Feb 10, 2022
Messages

152
Location
I bought eight of Brad's plans some while ago and started reading about trikes and quads on here and elsewhere. Was soon clear that there was a massive number of different designs for everything from a flat out racing machine to much more mundane pedal truck/ rickshaw types and with various number and position of the wheels. Everyone had their favourite type and each had it's pluses and minuses. I don't do 'fast' so that narrowed down the brief a bit and I really wanted to be very visible while riding. I also wanted to be able to dismount without drawing a crowd 'look at that poor old fat bloke trying to stand up'. Eventually I decided on a delta with large wheels and a high seat.
My first trike build was hurried and a bit 'suck it and see'. Several cut off and try again episodes but the result didn't look too bad and actually worked really well as far as I am concerned. Two major faults I decided were that it ended up quite heavy and also rather long. Neither was much problem on the road but became a nuisance for storage purposes.
So I started Mk2. Same basic setup but built a bit lighter (I hope) and a bit shorter so it can stand on end in my garage/workshop using the least floorspace. I had also bought a massive batch of bike/trike bits and decided to use one of the two trike rear conversion units which turn a standard bike into an upright style trike. I didn't want another upright trike (my wife nabbed the one that came with the batch of spares and is the work of the devil as far as I'm concerned) but the conversion unit was a good start as my new trike rear end.
I now have the makings together and when I layed it all out it seemed bigger than I'd expected and still pretty heavy. So today I took Mk1 and the new kit outside and clamped the parts together to compare them.
I am pleasantly surprised that the Mk2 will be quite a bit shorter (probably a foot shorter) and seems to feel a fair bit lighter as well. Hard to be sure on the weight as there's obviously a lot more to glue on it but I think it's promising so far. The Mk2 rear end is certainly lighter and no jackshaft also saves a bit of weight. I've also reduced the weight of the rear suspension pivot as this was overbuilt on Mk1
Things I need to sort include:-
Steering- I rather fancy USS but not sure at the moment. I've had a helluva job getting all the controls etc. mounted on standard bars (two brake levers, two gear changers, hub motor throttle etc).
Gears- I never have managed to get all the gears working on Mk1 as the deraileur just doesn't have enough throw. I've tried a couple and neither works properly. Not a big problem as I live in a flat area of Norfolk and like I said I am slooooow so find I only really need two gears for my rides? I also have quite a number of hub motor wheels and controlers for a little extra grunt.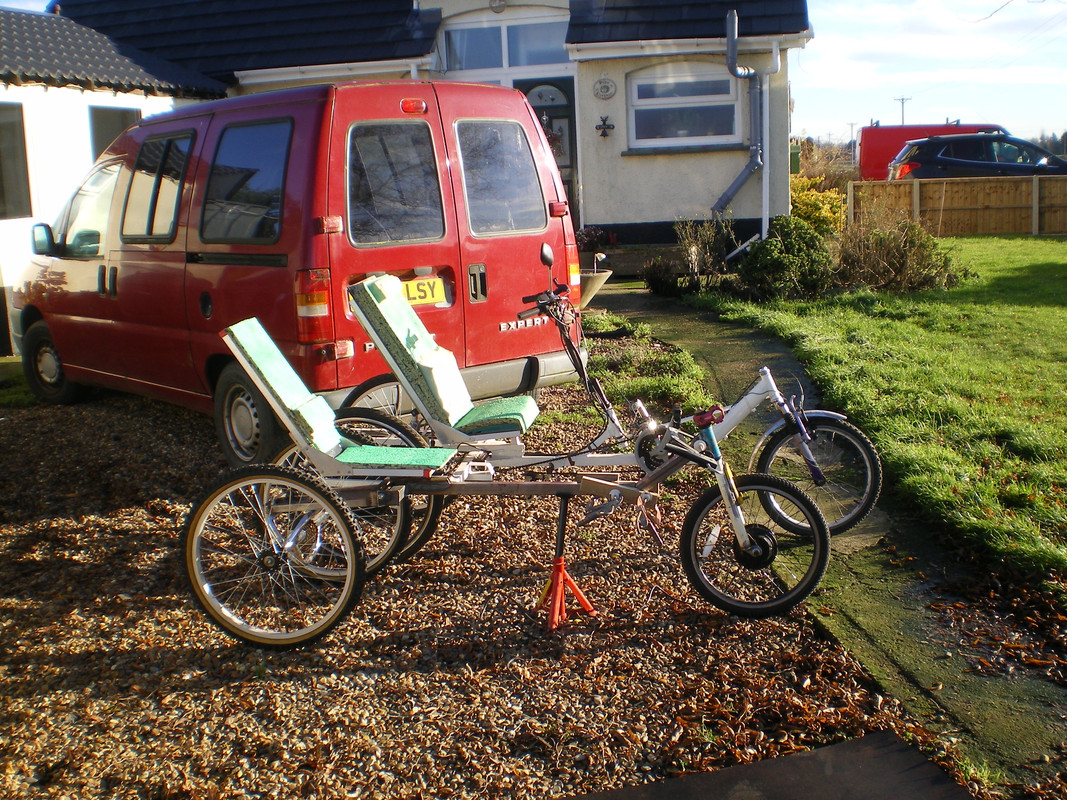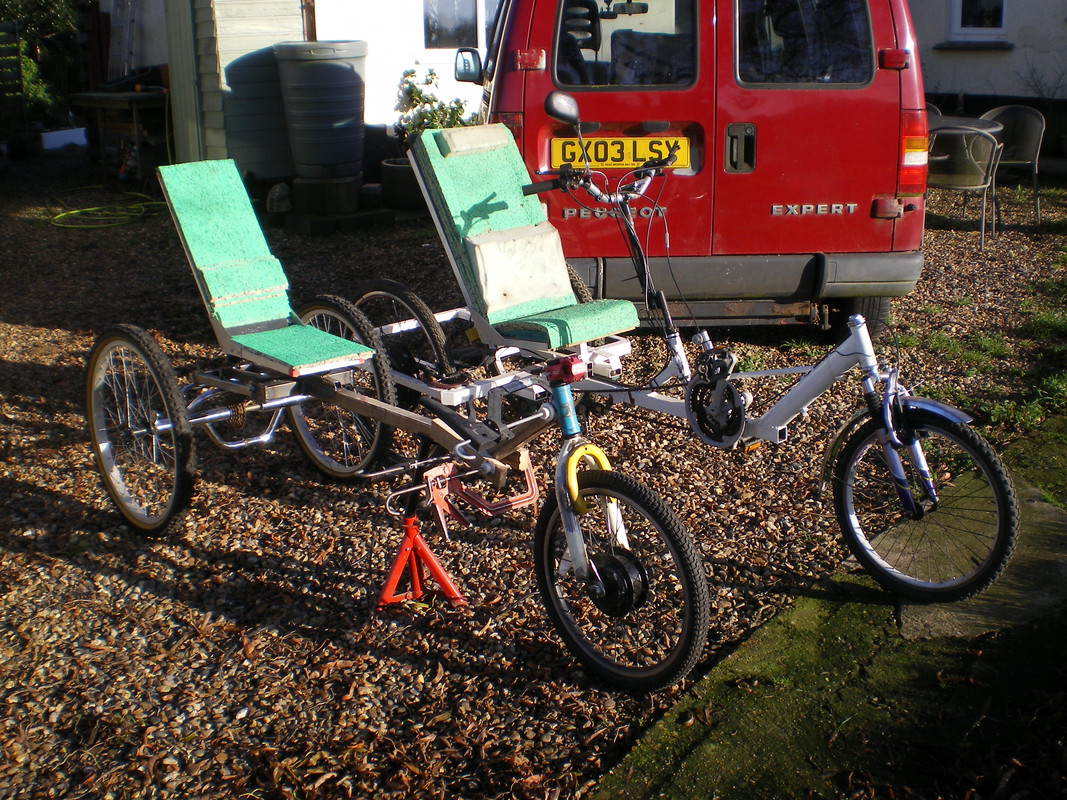 Rear suspension- I have several coil spring units but because of the position of the spring mounts they are all a bit too hard and have little give. The front suspension on Mk1 was seized so never worked and I never missed it as it's pretty easy to steer round the ruts etc.
So- I'm fairly happy now and will carry on with the build. I'll wait till it's finished and tested and if all's well I will probably cut up Mk1 for parts for Mk3.
John
Last edited: