Joined

Feb 7, 2008
Messages

3,686
Location
Ok out with the power tools [ sod it being Sunday ! ] bit of cutting and welding later :-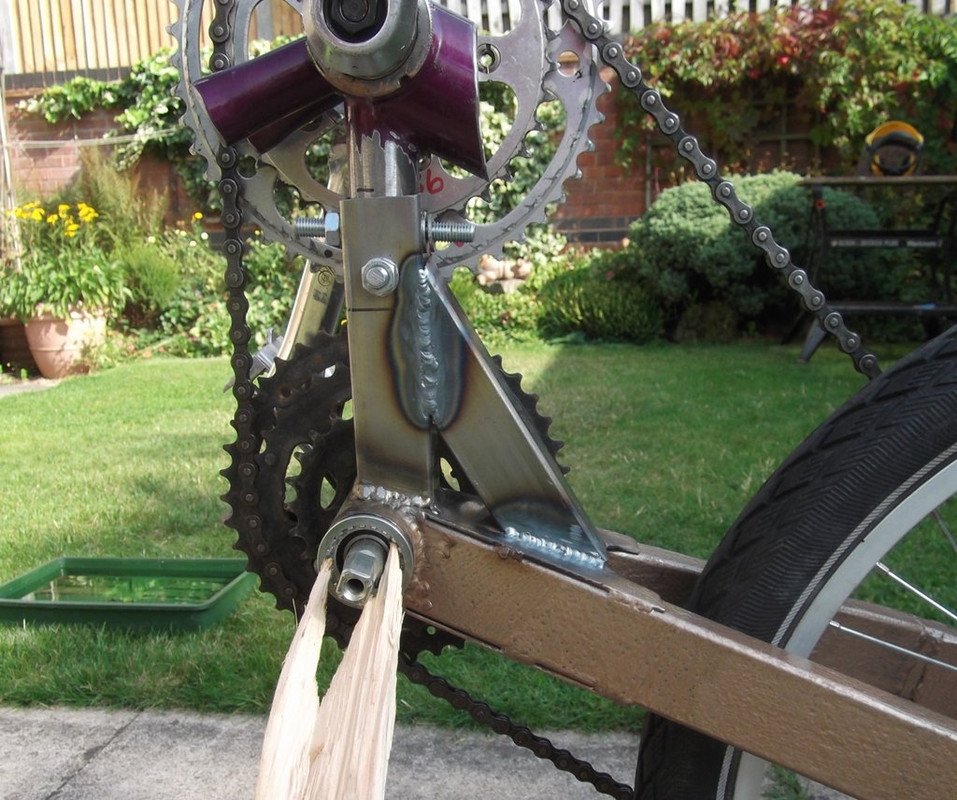 We have a brace/gusset it is not welded on all sides as I could not be ar**d to remove the wheel or the upper bolt however the 4 longest sides are welded , that should hold it [ I'm no Chris Hoy ! ]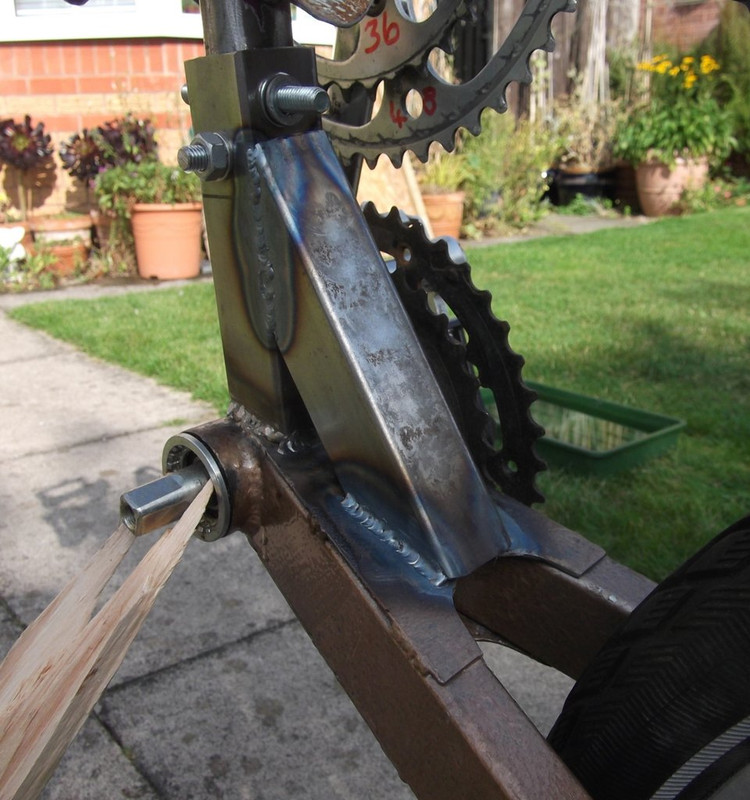 The problems I am having designing a new front end stem from the seat height/BB relationship , I have now reached [ well exceeded ] the height you can get from a 20" wheel mounted in a 20" MTB suspension rear end.
As you raise the BB it starts to move towards the seat , now this is fine for the pixie on here with his ankles connected directly to his knees [ you know who you are ] however if you have a normal inside leg measurement you cannot keep moving the seat back to get the leg length right.
So the answer seems to be to use a bigger wheeled rear end although it could probably still have a 20" wheel in if needed , or we could go to 24" ?
Now this is a 24" rear end , although it has a odd shape and so is as long rear axle to BB as a 26" rear frame.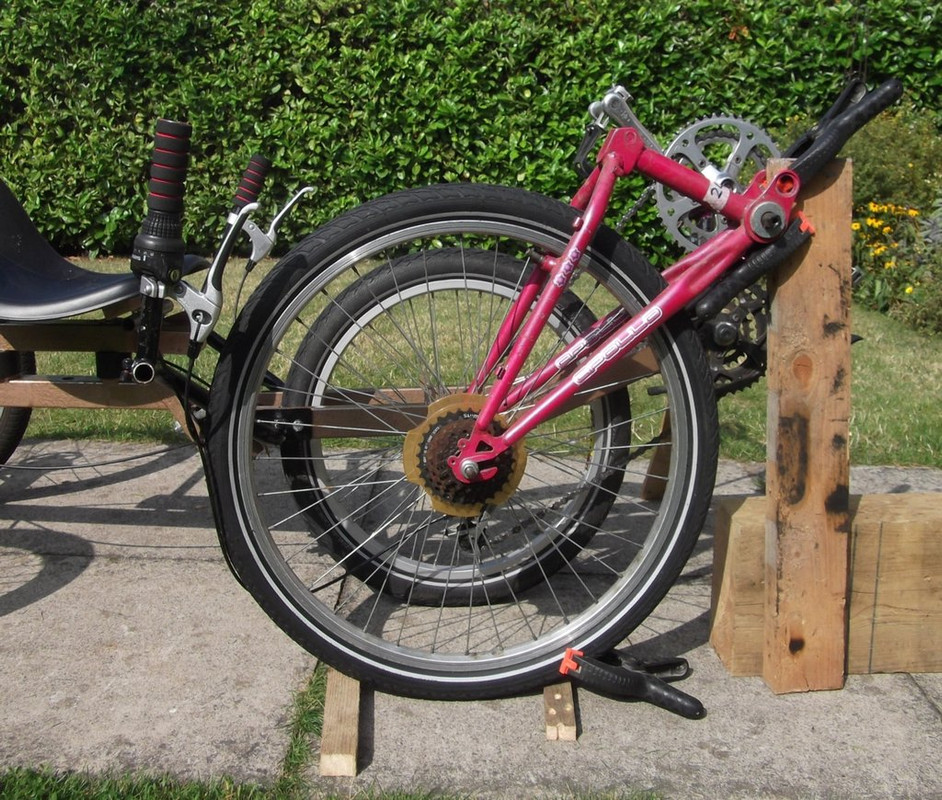 So with no jiggery pokery we can achieve the same height as in the botched front end and still have the axle in the same place ?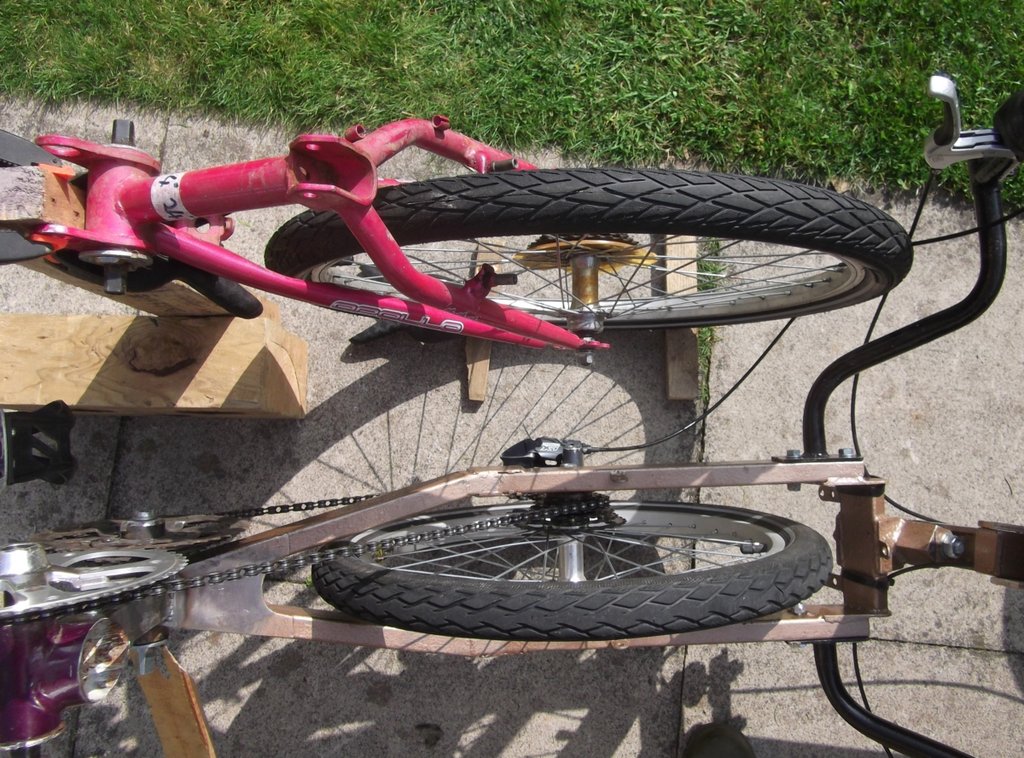 These are not quite in line the new one wants to be to the left about 2" then with a little bit of creative design I should be able to shave an 1" off the pivot design and it could fit in the same space ?
more musing needed Paul
ps Tilt#4 needs 4 x M12 locknuts on the pivot - 2 x M8 locknuts on the BB extension - move over the pannier rack and flag/reflector holder from Tilt#3 and hopefully it will be ridable Wednesday all being well.