Joined

Feb 7, 2008
Messages

3,495
Location
I'm back on track with adjusted pedal height. I may be crazy but the seat seems more comfortable now.
maybe report back on that after 25 miles
Oh and i was wrong, the chain is so dam long that even with full tension it has some slack and even though i tried very hard to give it a straight path, the top chain will need a little assistance to not touch the front fork.
Just need to tweak your terminology here ?
The chain running from the top of the rear cluster to the top of the front chain ring is called the ' power side ' chain
The chain running out from under the rear cluster going to the underside of the front chain ring is called the ' return side ' chain.
Saves the confusion of adding some chain management where they cross causes the top chain to become the bottom chain and the bottom chain becomes the top chain ?
as you say there is considerable tension on the power side and this needs a beefy mount and large diameter pulley/sprocket and a chain keeper to stop the chain being bounced off said pulley/sprocket.
bearings also help in the pulley/sprocket on the power side , the return side can be a simple piece of tubing , black garden water tubing [ in UK ] is perfectly adequate.
Don't do this !!!
They comment in the blog that the upper tubing only lasts a season ! if they had swapped the pulley and tubing round it would have been fine !!!
From the same source a skateboard wheel and notice chain keeper on bottom
both from here
Inexpensive recumbent
this is how Pashley did it :-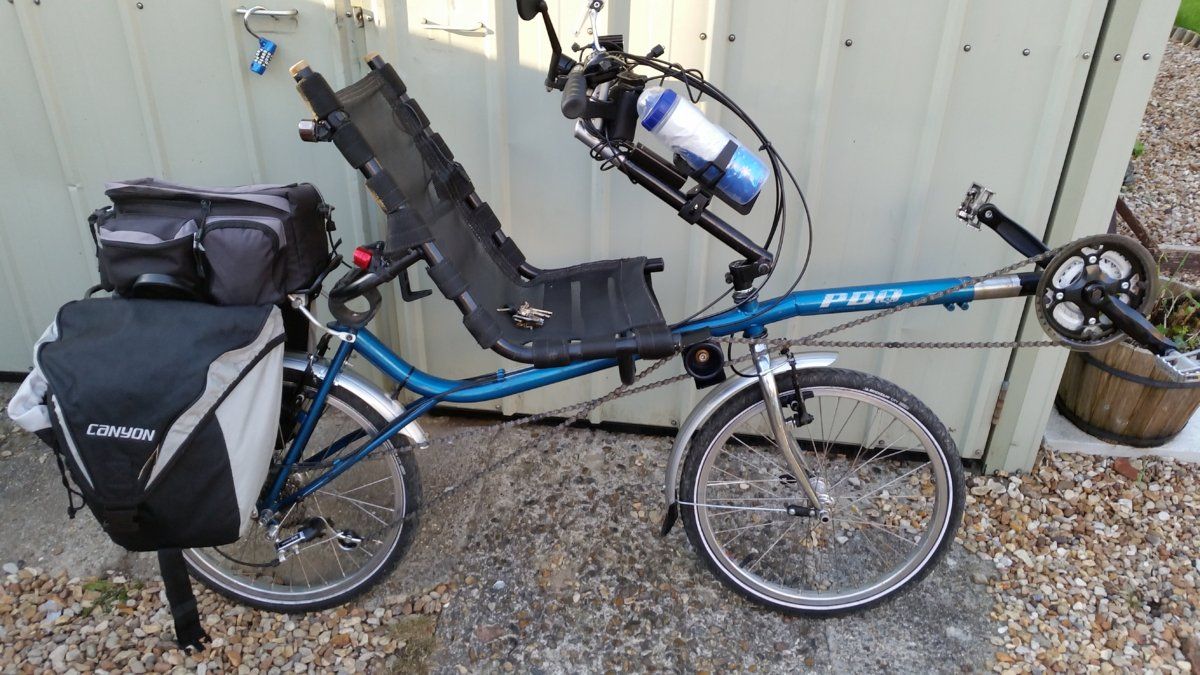 another good diy example
anyway plenty on the web
by the way this is the hardest part of a SWB recumbent as the chain has to avoid all the hardware and arrive at the back in the right place.
whilst FWD simplifies this problem you made a good choice of avoiding a MBB for your first recumbent , there is a very steep learning curve and some ' normal ' recumbent experience is a great help [ by that I mean miles and miles ] on something like you are building now