Joined

May 31, 2013
Messages

2,785
Location
Please excuse this placeholder, I am just testing things on the new forum.
The delta is alive and well, but on the back burner while I address some other issues and get ready for Holland 2019.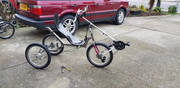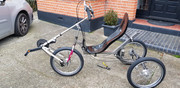 I made a non-tilting rear section as well as the tilting one and the two are interchangeable.
The change just requires the removal/replacement of the pivot bolt and some spacing washers.
My plan is to learn the foibles and pitfalls of MBB cycling before I add the complexity of the tilting feature.
To this end, I have 2 sets of drum hub backplates and one set of drums with rims and road-tyres.
Last edited: