Joined

Aug 20, 2013
Messages

75
Location
Website
Time to get back into building something
Now that the kids are grown up and a little less dependent - I can commute to work more often using more single person means. I started in the fall learning Electric UniCycle (EUC). It is fantastic but now laying dormant for winter and I also did not prefer to ride it in the rain though light rain was possible. So I starting research velo's to purchase -- many issues, cost the biggest. I love the PEBL and the ELF, again the cost.. So build my own.
I have always been fascinated with tilting vehicles -- but the tilt mechanism complexity always seemed to overwhelm my low engineering intellect. I think I have overcome that hurdle for the most part via someones elses intellect.
I have also always hated gears and derailers -- they are an absolute PITAss in my opinion. I found an couple of examples of generator type builds -- forgoing the traditional chain gears BS. I could just hook up a rear motor and throttle and go to town but I wanted to be able to peddle a get a bit of exercise and put back a bit of energy into the bats or have smaller pack. And having pedals gives the illusion it is a traditional bike allowing me on cycle paths.
Other things I am thinking:
--- want it as short as possible - also want the front and rear wheels to fold in / under main frame making for very compact storage or have it capable of standing on front wheels and frame - the later will be more likely
--- want a higher seat position - this is where tilt come in handy doing the corners for a higher center of gravity ride.
--- want it light as possible - aluminum but not welded, look up XYZ recumbents, very doable. The aluminum superstructure/frame will be lightweight but strong - goal is build max 80 pounds not including battery or motor. Plexiglass coverings added to give shelter and extra rigidity.
Time line -- Well I have most of the stuff to get building now. Motor from my current delta trike - aluminum tubing I got for a trailer build never started....But I have always used other plans in past builds. AZ to make the Kyoto and Thunderbolt for my 1st Tadpole I called Patrike1. This time it is mostly me. So I want to document it very well to share with others. So I am learning FreeCad to give some good drawings to work from. FreeCad will be a big hurdle for me. I am used to Paint and doing just 2D crappy drawings.
Initial concept drawing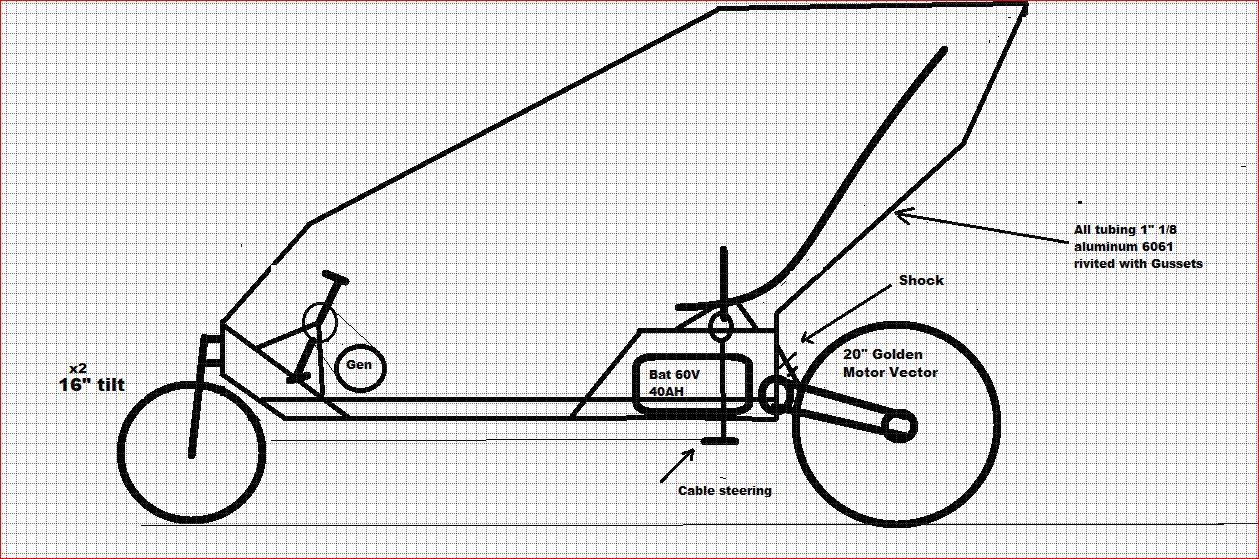 Stay tuned
Last edited: